Universal Studios Orlando has been overtaken by mischievous Minions! While the banana-crazed mini-villains have been a staple at Universal Studios theme park for years, their evil plans to take over the park seem to be working! The new Illumination's
Minions Land
takes up prime real estate right at the entrance of the park and consists of two rides, a new quick-service dining location, shops, and meet & greets with Despicable Me characters. Universal is brimming with thrill rides and coasters, making it a great destination for families with tweens and teens; however when it comes to rides for younger guests, it hasn't always delivered. This new Minions Land seems to be just the ticket to addressing that issue.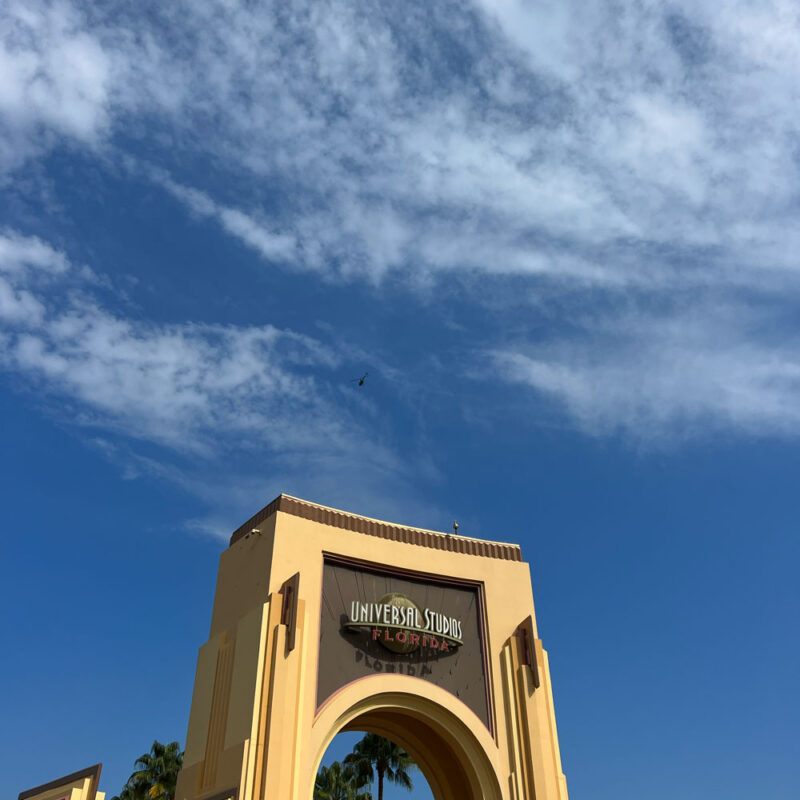 While the new ride, Illumination's Villain-Con Minion Blast, isn't going to make anyone's "favorite rides" list, it does deliver a fun and well-crafted experience that is worth doing (if the line is under thirty minutes). The new ride isn't actually a ride at all. Guests wind through a large outdoor queue (that will be VERY hot to wait in when the ride opens in a few days) before entering a well-themed Villain-Con! We took some videos of the interactive and entertaining space. Universal has done a great job of making the queues feel like part of the experience in their newer attractions like Harry Potter and the Escape from Gringotts™, Hagrid's Magical Creatures Motorbike Adventure™, and Jurassic World VelociCoaster, so we were expecting a fun queue and, in our book, they delivered! After exploring the booths at Villain-Con, guests are invited to grab an "E-Liminator X blaster" and join in the mischief. 
With your blaster in hand, you step onto a moving platform — picture the moving walkways at the airport — where colored circles mark each guest's place to stand. The platform winds through chaotic scenes filled with moving targets. Blasting the targets earns you points. We have yet to figure out which targets deliver the most points, but we're sure that soon after the ride opens there will be guides online to help you impress your friends and come out on top! Our scores were 1,050,000 and 500,000. Not bad for a first try! Our favorite part was the last scene which depicts the view from CityWalk.
While the ride isn't really a ride, and it's fairly unoriginal, we had fun and were impressed with the visuals and tech. The whole experience was well-designed and thought-out. In comparison to other game-like attractions (like MEN IN BLACK™ Alien Attack™ at Universal Studios or Toy Story Mania at Disney's Hollywood Studios) it definitely feels like a step-up. The best part is that no uncomfortable 3D glasses are required and it still feels immersive. 
To sum it up: Illumination's Villain-Con Minion Blast isn't going to top our favorite rides list or make it into our "must-dos," but it's a fun new addition, a great way to escape the heat and entertain the family with a bit of friendly competition. 
After trying out the new attraction, we explored Bake my Day, a bakery/candy shop. Once again, the theming in the shop was well-executed. Kiddos that are fans of the Despicable Me movies will be tempted by the cute pastel merchandise and treats. 
We had worked up enough of an appetite to warrant a stop at the new Illumination's Minion Cafe. This quick-service location incorporates mobile ordering in a very user-friendly way that we appreciated. The smoothest way to get your hands on some Minion-made grub without any mayhem is to place an order on the Universal app. Once you get to the restaurant, you'll be shown to a table inside a fun break-room style cafe. Take note of the hilarious "inspirational" posters throughout the dining rooms. We were lucky enough to be seated at a functioning foosball table, which captured the attention of four fully-grown adults until our food arrived. Maybe it was the taste of competition we got on Minion Blast that had us very seriously spinning the minion soccer team, but it was a very fun unexpected bonus!
I have a gluten allergy so I am always a little hesitant to try new dining locations, but when I say that this was one of the best dining experiences I've had in the theme parks recently, I'm not exaggerating. As you place your order on the app, you have the option to add a free menu item that's an allergy note. While I was "in the zone" trying to take down our friends in a heated foosball match, I was politely interrupted by a restaurant manager who explained in detail their allergy policies and guided me through my options (of which there were many!) He confirmed that the meal I had ordered was gluten-free and made sure I didn't want to add to or alter my order after speaking to him. When our food came out shortly after, the manager returned with the chef to reiterate my allergies and make sure I felt safe. 
I ordered Lucy's Top Secret Salmon(DS, FS, GS, PS) for $19.99 described as: "wood-grilled Atlantic salmon, coconut blue rice, Thai cucumbers, edamame, lipstick taser sauce." It was excellent. I was very impressed at the quality from a quick-service location. Our only complaint was that it was pricey for lunch, but to be fair, the quality and portion size were dinner-like.
All-in-all, the new Minion Land area at Universal Studios Orlando is a fun new addition to the parks. Though not groundbreaking, it's well-designed and well-run and we will definitely be back to hone our villain blasting skills.
We were able to preview the attraction as Universal Orlando Annual Passholders. The attraction officially opens August 11, 2023.
Planning a trip to Orlando? Let us help you get the most magic, adventure, and fun out of your trip.
Schedule some happiness!